Community Support Agriculture(CSA) Program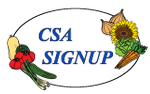 Community Supported Agriculture (CSA)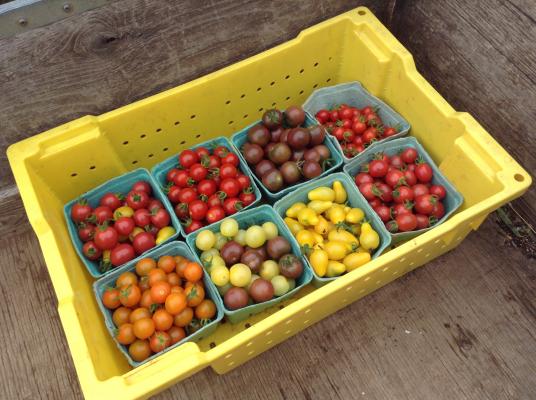 We're very proud here at Bantry Bay to offer our CSA program for our 10th year!  A CSA is an exciting link between farmers and their community, and helps connect a community to it's food.  If you're looking for high quality, fresh, organic food, then the CSA might be for you!
If you already know all about the CSA and would like to sign-up, please visit our sign-up page!
If you'd like to learn more, read on!
---
How Does the CSA Work?        Extra Features         CSA Price        Payment         Signup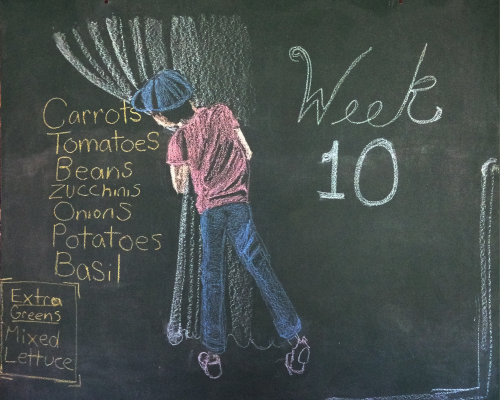 The Bantry Bay Farm CSA runs for 21 weeks, typically from the second week in June to the last week in October.    Members pay at the beginning of the season or in instalments, and in return receive a bag of fresh produce each week either picked up at the farm or delivered to their door.  Each bag contains around 6-10 seasonal veggies.  
Short Season Option - If you are only around during the summer months, our shorter 14 week program runs from July through September.
Pick up Times - Veggie pickup is from 4:30 - 6:00 PM on your assigned day, either Monday or Thursday evening.
Delivery - We offer delivery from St. Stephen to St. Andrews to St. George at an extra cost of $55 for the season (only ~$2.50/week).  St. Stephen delivery is Monday, and St. George delivery is Thursday.
Newsletter - Each week you will receive a digital newsletter with recipes, photos, and updates from the farm.
If at anytime during the season you will be away, you can arrange to have a friend pick up your veggies or you can notify us and we will donate the bag to the Food Bank or Community Youth Activity Centre. If it hasn't been picked up within 24 hrs it will be donated to the Community Youth Activity Centre or the Food Bank.
Assisted Share:
For the last 7 years we have connected with the St. Stephen Food Bank/Volunteer Centre to offer an assisted share program, giving our members the opportunity to donate extra money towards CSA shares for low-income families.  The program has been very successful, and thanks to our members' generosity, two families have been able to take part in the CSA each year who otherwise would not have been able to.  
This year, we're once again offering the assisted share program.  If you'd like to take part, just fill in that section of the form, and add your donation to your share payment.  You can include your donation on the same cheque as your CSA share. You will receive a charitable donation tax reciept from the Food Bank.
Greens Share:
Once again, we'll be offering a greens share for those of you who'd like extra greens.  The greens you might get are lettuce mix, pea shoots, lettuce heads, arugula, spicy mix, kale, spinach  or swiss chard,  with an extra emphasis on lettuce and lettuce heads.  A greens share costs $68 for the full season or $46 for the short season and works out to be an average of $3.25 of extra greens each week.
Bread Runners: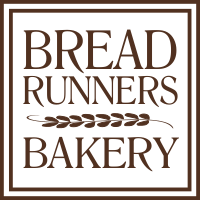 We are so excited to be offering wood-oven baked bread from Marina and Marc Latulippe, aka The Bread Runners, again this year.  With their delicious wood fired oven bakery they bring forth a tasty baguette, fluffy french bread, a delicious dense rye loaf and plenty more - all made with organic flour!   If you are interested, please check the interested box on the sign up sheet, and we will forward your contact information on to them. Payment will be separate from the rest of the share.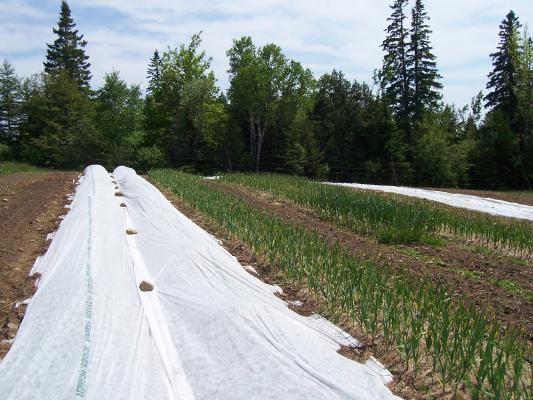 The Short Season is geared towards those who are only here for the summer months. The Full Season is for those who would like fresh veggies for as long as we can produce them.  We are constantly trying to extend the growing season here.  We will start the Full Season as soon as possible in June with the help of our greenhouses and tunnels.
The Full Season - 21 weeks: (early June - end of October)
Regular Share: $395 / Family Share: $750
or
The Short Season - 14 weeks: (beginning of July - end of September)
Regular Share: $305 / Family Share: $580  
A Regular Share: Suitable for couples, a small family, to share with a friend, or for one veggie lover.
A Family Share: Double the veggies! Suitable for a family, sharing with friends, or two veggie lovers.
Payment is by cash, cheque or Interac e-Transfer.  Interac e-Transfers can be sent to bantrybayfarm@gmail.com.  Please make cheques payable to:
Bantry Bay Farm
59 Bantry Bay Farm Rd.
Bayside, NB E5B 2V8
Payment is due prior to the first CSA pickup.  If you'd like to pay in installments, please send four postdated cheques for equal amounts (Jun/Jul/Aug/Sep).  If you'd like to work out a different arrangment, please email us at bantrybayfarm@gmail.com - we are flexible!
Signup
To sign up go to the sign-up page. This should open in a new window so you can refer back to this page for the various options.